The Center for Preventive Medicine in the northern province of Lao Cai, on April 30, said 37 fresh cases of Flu infection have been reported in the province.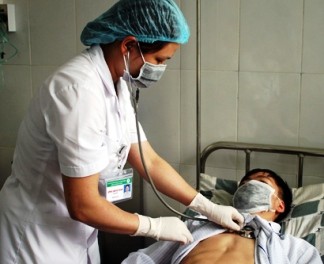 A physician treats a flu patient in the General Hospital in Lao Cai(Photo: VGP)
The province had earlier reported five patients with A/H1N1 virus infection in Quang Kim Commune of Bat Xat District.
The new cases have been reported from a boarding school for ethnic minority people where out of 37 students, three tested positive for the fatal virus.
Nguyen Van Suu, director of Center for Preventive Medicine, said students contracting the Flu virus reported suffering from cough, fever, headache and breathing problems.
The center and the school medical staff quarantined these students and they are currently under strict monitoring by medical staff.
People have sprayed disinfectants in the school premises and dormitories, and those who had directly contacted with the patients are being kept under close observation.