Chronic kidney failure is on upward trend in Vietnam, said medical expert at a seminar held lately.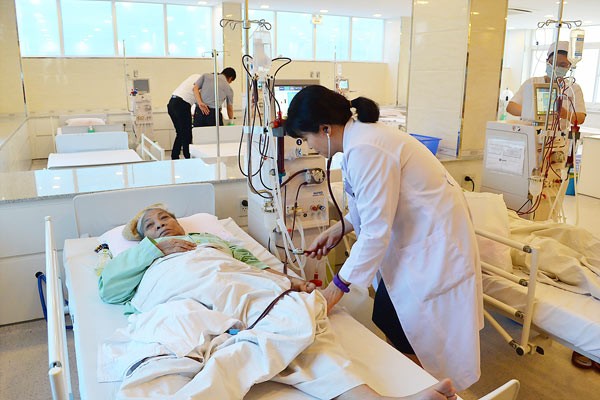 (Illustrative photo: SGGP)
Though the disease is not dangerous, the quality of life was lower in the patients with pain compared to those had not; additionally, patients must spend a huge amount of money for treatment.

Dr. Nguyen Huu Dung, head of the Kidney Disease ward in Hanoi-based Bach Mai Hospital, said that people with kidney disease account for 7 percent of the country's population while around 26,000

Vietnamese people suffer the renal failure in the last stage who put on hemodialysis accounting for 0.016 percent of the country's population. From 2008 to 2010, the rate of patients with renal failure in the last stage and had to put on hemodialysis is just 6percent to 8 percent yet it soared to 14-16 percent in 2016. It is estimated in 2020, it could rise to 30- 40 percent.

Dr. Pham Van Bui chairman of Blood Filtering Association of Vietnam said that ten percent of world population has the disease. Though it is not communicable disease, of every ten people one has it. Death will come within a few weeks when patients with kidney disease in the last stage are left untreated because they can't afford hemodialysis fee of VND800,000 to one million. They have to put on hemodialysis two or three a month. Therefore, treatment fee is a big financial burden for patients.

In the International Kidney Day held on March 9 in Hanoi and Ho Chi Minh City, experts fro the World Health Organization warned of the relationship between obesity and kidney disease. Dr. Nguyen Huu Dung said that obesity and kidney disease caused many other noncommunicable diseases such as heart disease, stroke, cancer, diabetes and chronic lung disease.

Medical workers said that preventive medicine task plays important role in reducing the number of chronic kidney disease people. Moreover,  obese people should reduce their weight by monitoring the diet and increase exercise daily.


More foreigners undergo hemodialysis in HCMC-based Nguyen Tri Phuong Hospital, said Director Vo Duc Chien. Currently, the hospital has admitted 138 patients with renal failure in the last stage who must put on hemodialysis. The hospital has set up blood filtering ward in 2015 and had 35 hemodialysis machines. The high-tech blood filter center established on August 14, 2016 with 20 machines to serve 50-60 patients a day is under Japanese experts' training and observation.