Health Minister Nguyen Thi Kim Tien confirmed at a meeting on April 23 that the rate of measles infections and deaths in the country has decreased.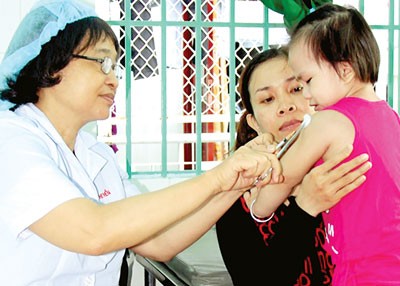 the rate of measles infectios in the country has decreased (Photo: SGGP)
The disease has caused many fatalities in Vietnam particularly because of the overcrowding situation in hospitals, said Minister Tien. The Ministry of Health sent five inspection teams to hospitals nationwide.
Minister Tien confirms that the country is not short of vaccinations but It is not enough for the daily demand of the people flocking to medical clinics. Many people were not vaccinated before the incident.
Hanoi will allocate VND 75 billion (US$3.5 million) to instating measurements to fight the disease, said Deputy Chairman of Hanoi People's Committee Vu Hong Khanh.
Prime Minister Nguyen Tan Dung requests the ministry and all sectors to mobilize resources to fight the disease. He urges the ministry to adopt measures reducing transmission in overcrowded hospitals.
Vaccination rate is low at 65.3 percent, said the Prime Minister. Some provinces even have a 50 percent.
The Prime Minister urges to raise awareness about vaccinations.