According to the World Health Organization,  Quinvaxem Vaccine used to protect children against five deadly childhood diseases is safe for children, said Dr. Nguyen Van Binh, head of the Preventive Medicine Department under the Ministry of Health.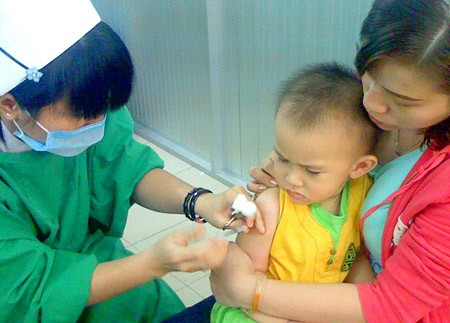 For illustration only
The Ministry of Health decided to suspend the use of the Korean made Quinvaxem Vaccine after several deaths and cases of severe allergic reaction among infants were reported across the country in late April.
The Ministry of Health and the World Health Organization jointly conducted tests of the vaccine to assess the properties of the vaccine and assert cause of deaths.
WHO had sent five samples to an independent international organization in England for testing and test results showed that the vaccine was safe for children.
Dr. Binh also said the Global Advisory Committee on Immunization Safety evaluated on June 12 the use of this vaccine that has brought great benefit in fighting five fatal childhood diseases such as diphtheria (D), tetanus (T), pertussis (P, whooping cough), hepatitis B (HepB), and Haemophilus influenza type b (Hib) with only a single dose.
Currently the vaccine is produced at five WHO-standard companies and WHO encourages countries to continue the use of the vaccine.
Professor Nguyen Tran Hien said, "On basis of WHO's recommendations, the Advisory Council on Vaccine and Medical Biology has proposed to the Ministry of Health to use Quinvaxem Vaccine again".
Health Minister Nguyen Thi Kim Tien said the Ministry, WHO and GAVI Alliance and UNICEF will have a meeting to discuss re-use of the vaccine after the ministry ordered its halt under the National Expanded Program on Immunization in April.