Rampant diseases among cattle and water-fowl in the central Vietnam including Porcine Reproductive and Respiratory Syndrome Virus (PRRSV) also called blue ear disease and Foot and Mouth Disease(FMD) caused serious losses for breeders there.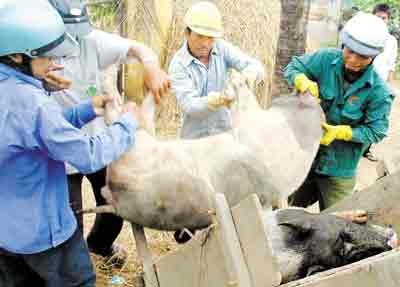 Vets in Quang Nam kill diseased pigs (Photo: SGGP)
Diseases struck animals in the central province of Quang Binh, Ha Tinh, Quang Ngai, Quang Nam and Da Nang.
Outbreaks of foot and mouth disease in Quang Binh's district Tuyen Hoa affected 113 cattle of 16 households. Residents said illegally imported animals through Cha Lo border gate. Vets provided 120 liter of chemicals, one ton of lime, 2,500 dozens of vaccine to fight against FMD.
Some 305  FMD cattle have been reported in Ha Tinh's district Huong Son and Huong Khe. Head of Department of Animal Health Pham Thanh Binh said the disease occurred because farmers have not vaccinated the herds for 15 years. Moreover, cattle is free –ranged with animals of Nghe An and Quang Binh which had reported diseases.
FMD affected 73 pigs and 64 cattle in Quang Ngai's district Binh Son, Son Tinh, Son Tay and Tu Nghia meanwhile blue ear killed 73 pigs in district Binh Son, said Quang Ngai's Department of Animal Health.
The department blamed poor awareness and relaxed behaviors to the disease among breeders for outbreaks of the disease. In addition, head of the department said people concealed the disease and purchase drugs to treat animals at homes but a farmer, Nguyen Thi Hoa in Nghia Hoa commune said vets have not warned them of the disease as well as sprayed disinfectants or injected vaccine.

The central city of Da Nang has killed over 2,500 blue ear pigs among nearly 5,400 infected animals while Quang Nam killed over 5,000 pigs. The disease has spread in seven district of Quang Nam. it is alarming that local governments have not strictly controlled transportation, trade, slaughter and consumption of pork products.