Prime Minister Nguyen Tan Dung has urged the health sector to re-organise and improve the healthcare system, especially in districts and preventative medicine centers, so as to provide better service to patients.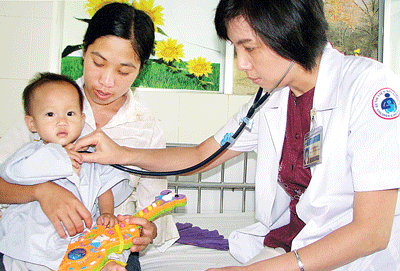 Dr. Vu Minh Phuc examines a child heart patient ( Photo: SGGP)
The Prime Minister was speaking at a conference organised by the Ministry of Health in Hanoi on February 23. He particularly asked the health sector to revamp operations in all public health units in order to serve the public better.
PM Dung also asked the sector to find measures to reduce overloading in city hospitals, and submit an effective plan accordingly.
The ministry, relevant departments and people's committees in Hanoi and Ho Chi Minh City should promptly submit a project plan to reduce overload in central hospitals in Hanoi and Ho Chi Minh City.
The Prime Minister also requested the sector to implement anti-epidemic measures to curb spread of various diseases.
Health minister Nguyen Thi Kim Tien said that in 2012, the health sector will focus on revamping operations as well as call for social contributions so as to improve treatment facilities and develop hi-tech medical services to meet increasing demand and help stop  "foreign currency drain" into neighboring countries, as wealthy patients go abroad for treatment.
According to the health minister, the sector will carry out synchronised policies to support people on and close to the poverty line, and beneficiaries of social policies, by offering health insurance cards to 65 per cent of the population.
In addition, the health minister said the sector will curb diseases such as poliomyelitis, tetanus and HIV.
On this occasion, Tien also asked medical workers to improve on their ethics, morals and behavior while dealing with patients following on President Ho Chi Minh's teachings: "Doctors are like caring mothers."
In related news, HCMC leaders continued to call on senior health workers on the occasion of 'Vietnam Doctor's Day'.
 
Le Thanh Hai, Politburo member and Secretary of Ho Chi Minh City Party Committee, and leaders of agencies and sectors visited Vietnamese heroic mother Bui Thi Me; former Deputy Minister of Health; Pharmacist Doan Thuy Ba; former Deputy Minister of Health and Pharmacist Tran Van Nhieu, former director of Pharmaceutical and Medical Public Company.
Hai appraised the contributions of senior medical workers in healthcare services and wished them good health.
On the same day, elsewhere in town, Le Hoang Quan, People's Committee Chairman, led a delegation to greet Doctor Nguyen Thi Ngoc Phuong, former director of Tu Du Obstetrics Hospital in HCMC and Dr. Truong Xuan Lieu, former director of Department of Health in HCMC.