50 children from Hoa Binh preschool in the southern province of Binh Duong were rushed to the Thuan An Medical Center for emergency treatment yesterday, in a shocking incident where they were mistakenly fed milk mixed with floor cleaning pesticide.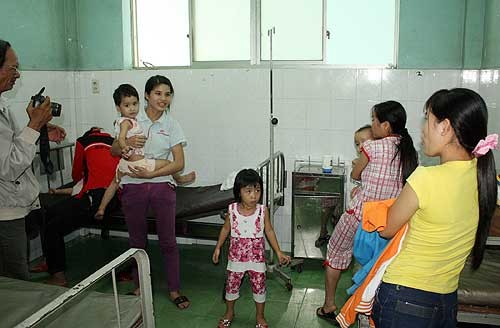 Children being treated at Thuan An Hospital (Photo: Thanh Nien)
27 of the children who drank the chemical laced milk developed vomiting, fatigue and faintness. Two were in serious condition and were transferred to the Children Hospital in Ho Chi Minh City and the General Hospital in the province. Until now, 20 children were still undergoing treatment in Thuan An Hospital.
Samples taken of the toxic mixture from the Hoa Binh preschool, located in Binh Dang hamlet of Binh Hoa Ward in Thuan An Town in the southern province of Binh Duong, was identified as Chloramine, a powder pesticide which was mistakenly mixed with cereal milk.
Doctors say it is fortunate that the children had consumed only a small amount, while some toddlers refused to drink the milk because of its bad odor.
As per the provincial Department of Education and Training, the school was operating from a living room of a private house, had no license and did not meet the required standards for facilities and trained personnel. The education authorities have sealed and shut down the school.