Following reports that the US's Schering-Plough Pharmaceutical Company incited Ho Chi Minh City doctors to promote two kinds of drugs in exchange for commission, Prime Minister Nguyen Tan Dung has ordered the Ministry of Health to impose penalties on the drug company and doctors who took kickbacks.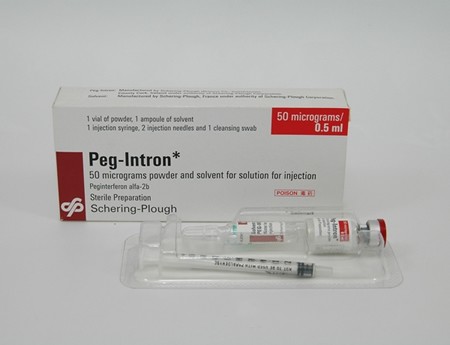 Ho Chi Minh City doctors receive high commission if they prescribe the drug US's Schering-Plough Pharmaceutical Company's Pegintron 50 mdg and Pegintron 80 mcg ( Photo: SGGP)
The Ministry of Health will liaise with the Ho Chi Minh City People's Committee to investigate the issue and report to the Prime Minister on suggested penalties for those involved.
Doctors in public HCMC hospitals reportedly received up to VND500 million (US$26,300) monthly as commission for promoting two types of Schering-Plough drugs used to treat viral hepatitis.
Leaders of the city's Medical University and its hospital held a press conference March 29 to discuss the controversy as related to staff here.
Dr. Phan Chien Thang, deputy director of the Medical University Hospital, said that one his staff, Dr. Truong Ba Trung, has been temporarily suspended from his clinical and teaching work for his reported involvement in the case.
In addition, the hospital has terminated a contract with Dr. Dinh Da Ly Huong, also for allegedly taking kickbacks.
Co-deputy Director of the hospital Dr. Nguyen Hoang Bac said he had ordered the facility's Pharmaceutical Faculty to investigate all drug prescriptions written recently, especially those for Schering-Plough's Pegintron 50 mdg and Pegintron 80 mcg used to treat liver disease.
It would then be decided if doctors had prescribed the medicines inappropriately to receive commission.
Dr. Le Quan Nghiem, deputy head of the Medical University-turned-head of the Pharmaceutical Faculty, said the school has also suspended Dr. Nguyen Duc Tuan after rumors surfaced that he was working as a marketing director for Schering-Plough.
The US pharmaceutical company merged with US-based Merck Sharp & Dohme (MSD) in 2009 and Ton That Luong Nguyen was appointed chief representative in Vietnam.
Mr. Nguyen reportedly secured a high commission for doctors of 10-30 percent of the cost of the drugs if they prescribed Pegintron 50 mcg and Pegintron 80 mcg for patients.
The monthly turnover in Vietnam of the two types of drugs is around VND6 billion (US$ 315,000). Mr. Nguyen allegedly gained around VND1 billion a month after taking a percentage of the commission made by the doctors.