Following reports that the diarrhea vaccine Rotarix contains a pig virus called porcine circovirus 1, or PCV1, parents in Vietnam have grown increasingly anxious over whether to inoculate their children against rotavirus.
Some parents in Ho Chi Minh City say they will not allow their children to take the vaccination, administered orally, while some medical clinics have announced they will temporarily stop using it.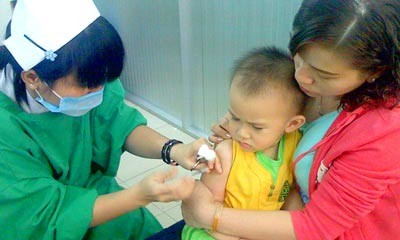 Following reports that the diarrhea vaccine Rotarix contains a pig virus called porcine circovirus 1, or PCV1, Vietnamese parents hesitate to take the vaccine for their children ( Photo: SGGP)
At HCMC's Pasteur Institute, parents sought advice from experts about what to do. Some parents said they will go ahead and inoculate their children with Rotarix, as there has been no official warning issued by the Ministry of Health.
Rotarix is a two-dose vaccine that offers early protection against rotavirus to infants. Produced by GlaxoSmithKline (GSK), Rotarix is indicated for the active immunization of infants from the age of 6 weeks for prevention of gastro-enteritis due to rotavirus infection.
Some parents, like Mrs. Nguyen Anh Nguyet from District 1 who have already given one dose to their infants, said they would wait for more information before giving the second dose.
HCMC's Children Hospital I announced March 25 it would temporarily stop using the anti-diarrhea vaccine although it has not received any official orders to do so. Other countries have ordered doctors to temporarily avoid using Rotarix, said a hospital leader.
The Children Hospital II, which regularly sees over 130 children a day suffering acute diarrhea, has reported a decrease in the number of parents seeking the vaccine for their kids.
Dr. Nguyen Dac Tho, deputy head of the city's Center of Preventive Health, said his center is waiting for official guidelines from the Ministry of Health and Department of Health. In the meantime, Dr. Tho said physicians should offer detailed consultations to parents about the vaccine and children should not take Rotarix unless urgent.
Meanwhile, Deputy Health Minister Trinh Quan Huan said that immediately after receiving the announcement from GSK and a warning from the US FDA about the vaccine, the Ministry of Health ordered the Drug Administration of Vietnam to report to the ministry before March 26.
Vietnamese children have had access to Rotarix since 2007 and around 155,000 doses have been administered, costing VND700,000 (US$39) each.
The Ministry of Health should quickly issue guidelines, said a manager from the Pasteur Institute, especially since the vaccine is used for infants. Although no ill effects have been reported, the future safety of Rotarix is unknown, the manager added.
Nguyen Thi Tuong Vy, marketing manager for GSK, said the drug company has sent official documentation outlining the vaccine's safety to the Ministry of Health and relevant agencies. GSK assures that despite containing PCV-1, the vaccine is still safe for consumption.
According to GSK, the pig virus does not multiply in humans and is not known to cause rotavirus-related illness in people. The virus concerned is normally found in pigs and is even found in pork that is sold for consumption. The virus is not known to cause any disease in humans or pigs.
GSK says it is now reviewing how best to replace the cell bank and virus seeds used in making the vaccine, but it will continue Rotarix production using current methods.
Related article:
Vietnam questions GSK about diarrhea vaccine safety