The Ministry of Health announced at a press conference on October 8 in Hanoi that more than 750,000 infants had been vaccinated in the free-of-charge immunization campaign targeting to administer vaccine to 20 million children nationwide.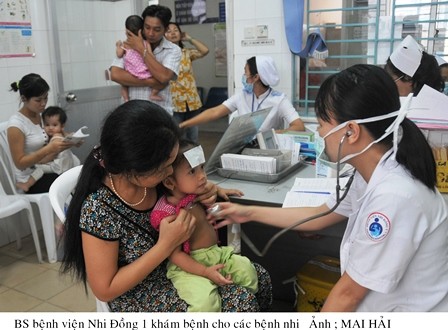 Children are examined before vaccination in Children Hospital No 1. (SGGP)

Deputy Minister of Health Nguyen Thanh Long pointed out that the Southeast Asian country is one of 39 nations in the world which have implemented a free-of-charge mass vaccination campaign against measles and rubella, the first of its kind so far.
The campaign is instructed by the Prime Minister; accordingly it needs a close coordination between related ministries and agencies and it will get big success if all residents take part in, Mr Long added.
Mr Long instructed the ministries and departments to tighten more vaccination safety.
Under the instruction, the Ministry of Defense has to provide training to medical workers in mountainous and distant districts to inject vaccine to local children at frontier posts.
The Department of Preventive Medicine and the National Institute of Hygiene and Epidemiology under the Ministry of Health has set up a hot line to give information and answer situations in vaccination campaign.
Dr. Tran Dac Phu, head of the Health Ministry's Preventive Health Department, said that 27 million dozes of vaccine will be received in four phases. In the first phase, 5,000,000 dozes were administered in August, 2014; the second phase will use 8,000,000 dozes; 4,500,000 and 9,552,100 dozes of vaccine will be for third and fourth phases starting from October to December this year.
The Ministry also set up four inspection teams to supervise vaccination in localities. Inspection teams said that the preparation of the campaign is carried out carefully with the participation of education sector and parents.
Vaccine is preserved in right technique. No serious side-effect of vaccination case has been reported so far. As of October 6, medical workers in 26 provinces were administered immunization on children. Children in the remaining provinces will be implemented in October.
Around 30,094 children delayed immunization this time due to having fever and acute infectious disease. They will be injected in the time ahead.