More than 200 Ho Chi Minh City residents contracted the dengue fever per week and outbreaks of a mosquito-borne infection have recorded in many districts.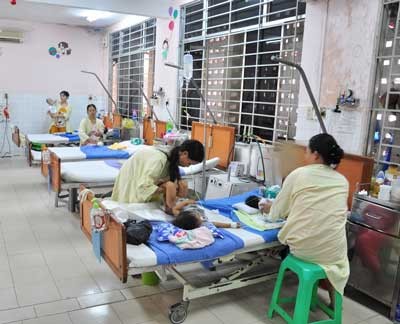 Two or three children must stay in one bed when explosive outbreaks of dengue fever  occuring
Medical workers of the city's Children Hospital No.1 were run off their feet as nearly 20 kids are rushed to the hospital a day.
Especially the admission of a day is over 130 toddlers in the ward to treat dengue fever while the number of beds in the ward are 85; accordingly two or three child patients have to resort to stay in one bed.
The hospital's deputy head Le Thi Bich Lien fretted about increasing patients but also more serious complications. For instance, the emergency room received 10 year old boy suffering a critical state of shock.
The patient's condition deteriorated after three days of fever; the temperature drops in the fourth day but he experienced vomiting, cold hands and feet, pain in his belly and the patient rapidly went into a critical state of shock.
The crowded scene of dengue fever patients have also seen in the Children Hospital No.2's specific ward where 150 kids stayed in 70 beds. Most of them come from the city's districts.
In other hospital, no available beds in the HCMC-based Tropical Disease Hospital's three wards on September 13. Adult patients in two wards C and D even stayed in the lobby of the hospital.
Recently, people contracted the disease have increased suddenly, according to Dr. Le Thi Thu Thao, head of the Emergency Ward. Since the beginning of the year, the hospital has admitted more than 4,000 cases of dengue fever including 2,000 people suffering serious complications.
Some medical workers said the rate of the adult patient is 50 percent meanwhile it is 6.2 percent in kids.
HCMC-based Pasteur doctors warned the disease has reached its peak season and it will soar remarkably if health authorities don't implement appropriate measures to combat the disease-carrying mosquitoes.
Dengue is found in tropical and sub-tropical climates worldwide, mostly in urban and semi-urban areas. Dengue haemorrhagic fever is a leading cause of serious illness and death among children in some Asian countries.