Nguyen Hoang Phi Phung, died on February 23 after an operation last year to separate the 14-month-old conjoined twins.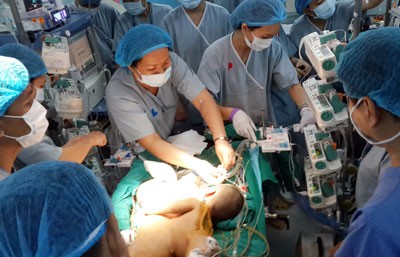 Medical workers of Children Hospital 2, Heart Institute and Hospital of Traumatic and Orthopedics finish the operation in November, 2013.
The child was on life-support and died due to pneumonia and blood poisoning. His brother is still recovering from the surgery and will be released from the hospital soon.
The twins were born in Ninh Thuan conjoined between the thorax and the abdomen.
They shared a heart, liver, biliary tract and had a defective abdominal wall and thorax, said Dr. Truong Quang Dinh, deputy director of Children Hospital 2.
The twins were born prematurely at a local medical clinic on Sept. 25, 2012. Doctors successfully separated the twins during a 10-hour procedure at Children Hospital 2 on Nov. 25, 2013.

Related articles:
City doctors successful in separating conjoined twins
Conjoined twins in stable condition after operation