Four patients have contracted a rare pathogen from local pigs, but there is no evidence to suggest the infection could spread from human to human, the National Hospital of Infectious and Tropical Diseases said.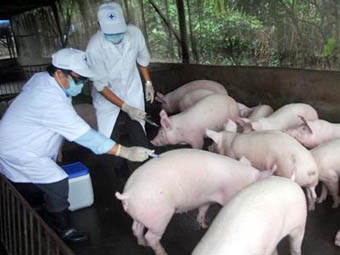 Veterianrians vaccinate pigs at a fram in northern province of Ninh Binh.

Hospital director Nguyen Van Kinh said on May 3 that all those who had contracted the streptococcus suis bacteria, commonly found in pigs, had eaten undercooked pork products made from diseased swine.
Streptococcus suis can cause meningitis or septicaemia (blood poisoning) if patients do not receive timely treatment, said Dr. Kinh
The hospital receives 1-2 people per day suspected of having contracted the bacterium, said Dr. Kinh, adding that they suffered symptoms such as fevers and nausea.
The four infected patients include three who caught meningitis and one with blood poisoning.
According to epidemic experts, streptococcus suis cases occur all year round, however, the number of patients has increased sharply with the rise of the blue-ear pig disease in several provinces recently.
As part of the efforts to combat the disease, the ministry has warned traders not to buy and sell pork without authorized certification of its origin or quarantine.
The Ministry of Health also warmed that people should not eat pigs' blood curd, sick pigs or undercooked pork.
In related news, 47 people contracted diarrhea after having a weeding party at Han village, Ly Nhan District, in the northern province of Ha Nam, said Dang Dinh Thoang, Director of the province's Preventive Health Center.
Thoang said on May 3 that four out of 47 wedding guests had been taken to the hospital in serious condition.
Most of the infected patients ate unsafe food and drank polluted water, Thoang said.
As of now, five cities and provinces in the north – Hanoi, Hai Phong, Bac Ninh, Hai Duong and Ha Nam – have reported outbreaks of acute diarrhea and cholera, said the Department of Preventive Health at the Ministry of Health.