Ministry of Health yesterday confirmed no Ebola case in the country.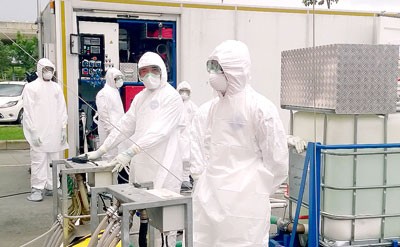 Medical workers are in a drill situation of receiving Ebola -infected people from airport to a hospital (Photo: SGGP)
From August 11 to early October 2014, the International Health Quarantine Centers in major airports Tan Son Nhat in Ho Chi Minh City and Noi Bai in Hanoi had isolated nearly 250 passengers from Ebola-hit nations in Africa.
40 of them are Vietnamese who worked in Ebola-hit countries such as Liberia, Nigeria and Senegal. All were undertaking medical check-up in hospitals and under scrutiny in localities.
The Ministry's Department of Preventive Medicine said that cases of Ebola continue to increase in both infections and deaths in six African nations, one had been found in the US and one in Spain.
The World Health Organization said that within past week, 306 people have been infected with the disease and 168 people died of it. Worse, 424 medical workers have got the disease and 241 of them succumbed to it.