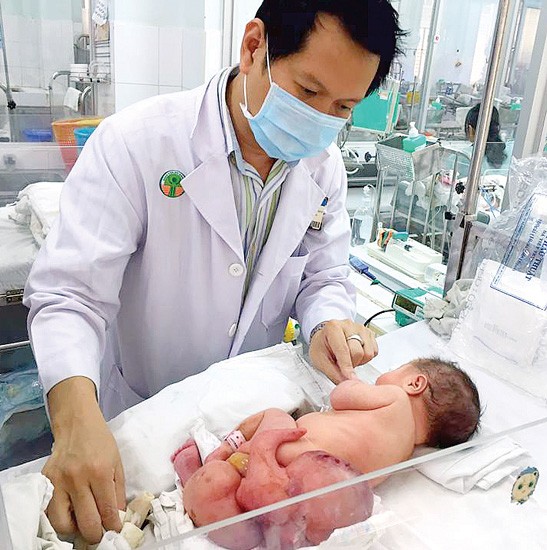 Dr. Truong Quang Dinh examines the baby girl before the operation (Photo: SGGP)
Dr. Truong Quang Dinh, deputy head of the Children Hospital No.2 yesterday said that surgeons have successfully removed a tumor parasitizing in a baby girl from the central highlands province of Lam Dong.

When the mother was 20 week- pregnant, through the Ultrasonic testing, doctors discovered the fetus had a big strange tumor.
Right after the baby girl was born at 38 week of pregnancy in Tu Du Maternity Hospital in Ho Chi Minh City then the baby was transferred to the Children Hospital No.2 for an operation.

After the 3 hour operation, doctors have removed a 900 gram tumor from the baby girl who weighed 2.4 kilogram later. According to medical workers, the tumor is a parasitic fetus which has head, limbs and guts.

The baby girl's health condition is stable after the operation.

The hospital covers all costs of the operation as per the regulation.