With many patients suffering complications due to faulty prescriptions in the proper dosage of drugs, the Ministry of Health has now issued a circular to specify the responsibilities of a medical worker.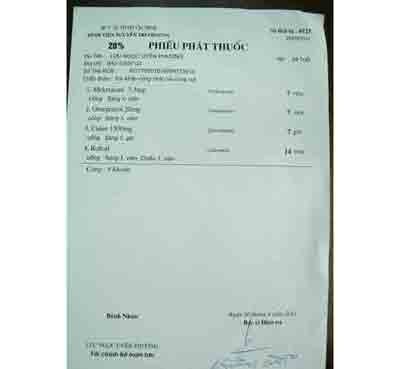 A computer typed prescription is easier to read for both patients and pharmacists ( Photo: Uyen Phuong)
Under the circular, doctors will ask patients and record what medicines they used before and within last 24 hours, history of allergies and patient's clinical symptoms. Medics will now have to write the full name of the drug and easy-to-read prescriptions in the patients' record book. In case, doctors change the drugs prescribed, they must sign alongside to verify the same.
Moreover, instead of just writing the name of the medication and dosage, doctors must now write the drug name, content, dosage per day, time of taking drug and special notifications as applicable. 
Dr. Le Duc Dinh Mien of the Nguyen Tri Phuong Hospital in District 5 of HCMC, said although the new regulations for prescriptions are lengthy, they are necessary because many doctors do not care to be transparent on prescriptions.  The new circular satisfies that need.
In addition, the new circular also requires medical workers to keep track of patient's development in intensive care rooms. Doctors must prescribe drugs daily for patients who are in need of special care. For patients who respond well to drugs and do not require extra dosage, doctors can relax dosage to two days dosage per week with three days gap in between. Doctors should also inform patients and patients' relatives on the side-effects of drugs, who can then observe the patient after drug use.
A senior member of the Vietnam Drug Administration said in case of a doctors' incorrect prescription in which a patients suffers shock or succumbs to death, doctors will be held accountable.
The new regulation has been issued in light of many doctors writing illegible prescriptions that patients and pharmacists are unable to read. Ho Thi Ng. from the southern province of Binh Phuoc said she must redo health check-ups in the Medical Hospital in district 5 of HCMC because she wants to be on the safe side, as she cannot read the handwritten prescription of her doctor back home.
Dr. Nguyen Dai Bien of People Hospital 115 said it is high time to correct this flaw as it is most irritating for him to receive dozens of prescriptions daily from doctors in rural districts and small hospitals. Except for the big hospitals like Cho Ray and People Hospital 115 that use computer print outs, doctors in district hospitals and especially in rural countryside areas still write so illegibly that even their counterparts are unable to read, let alone patients and pharmacists.
With more than 3,000 private healthcare rooms and general medical clinics in HCMC, only 10 percent use computer printed prescriptions. As a consequence, wrong prescriptions have resulted in serious fatalities.
The circular aims to correct rampant use of illegible prescriptions and overloading at hospitals hindered by incorrect prescriptions. However, even though it will be hard to change old habits especially in rural areas, Pham Khanh Phong Lan, deputy head of the Department of Health in HCMC, said the ministry and other departments should train medics to write legible prescriptions and adopt the use of Vietnamese-made medicines only.