At a press conference in Hanoi yesterday, health minister Nguyen Thi Kim Tien stated that the new revised hospital fees will affect almost 36 percent of the entire country's population.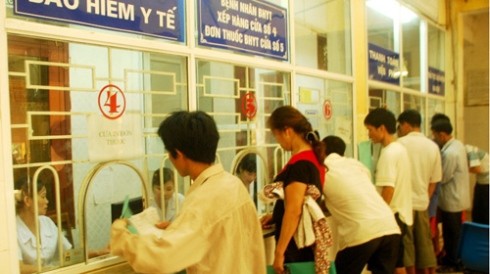 People pay hospital fees at Lao Cai Province General Hospital (Photo: Tuoi Tre)
The minister stated that this 36 percent comprises of people who have not yet purchased health insurance. Those who are supported by the Government include the poor and impoverished, beneficiaries of social policies, ethnic minority people and children less than six years of age. 
For around 6.6 million people whose economic condition is close to the poverty line, the Government has decided to raise rate of health insurance premium to 70 percent. Province leaders are encouraged to give support to these people depending on state budget of each province.
The minister announced that along with new revised fees some policies to support the public have been implemented by the ministry. For instance, patients now save time as overloading in central hospitals has improved, such as in Bach Mai and K Hospital.
The Ministry of Health will also propose to the Government to raise rate of health insurance premium for farmers working in the field of agriculture, fishery, forestry and salt to 60 percent from the current 30 percent--to share their burden and encourage them to buy health insurance. If the proposal is approved, the new rate will apply in 2013.