Official warnings about a possible human bird flu epidemic with the onset of winter seem to have been ignored, and at least one person has already contracted the disease this year.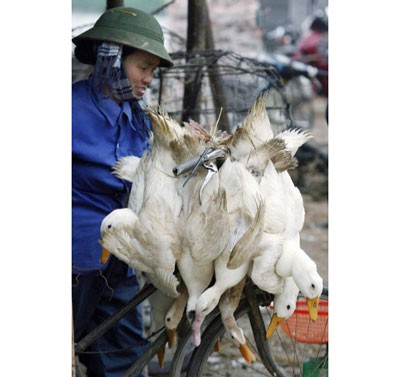 Wide transportation of poultry give the virus H5N1 the chance to spread (Photo:AFP)
Dr. Nguyen Huy Nga, head of the central Department of Preventative Health and Environment, confirmed that an eight-year-old girl in Ba Thuoc District in the northern province of Thanh Hoa contracted the virus.
T, her family wish her to remain anonymous, fell ill on December 27 with symptoms like fever, cough, and breathing problems but was taken to hospital only on January 2.
Tests done at the National Institute of Hygiene and Epidemiology in Hanoi revealed she was infected by the h5n1 strain of bird flu virus.
Her sister, Th, 13, died earlier after having similar symptoms but Mr. Nga said that the cause is still unclear since no tests were done on her.
The province's Department of Health merely said she had died of shock caused by infection.
Preliminary investigations show that the two girls and their poor family had cooked diseased water fowl a week earlier. Poultry have been dying in the neighborhood.
Bird flu can occur all year round but especially in winter because wet weather is conducive to the development of the H5N1 virus.
Winter also means Tet (the lunar new year) and massive sales and transportation of poultry, giving the virus the chance to spread.
Recently veterinary officials in the northern border province of Lang Son detected H5N1 virus in hens smuggled in from China.
With official agencies unable to monitor all illegally imported birds, Mr. Nga warned people to be vigilant against the pandemic.
Last year five people died of the disease.