More young Vietnamese people have diabetes, said experts at a meeting held by the Ministry of Health and the National Endocrine Hospital yesterday in response to the World Diabetes Day themed "Eyes on Diabetes".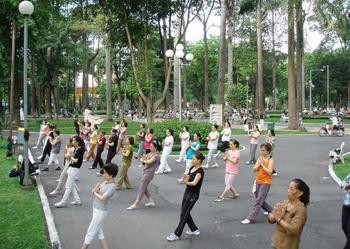 People should exercise to keep fitness (Photo: SGGP)
The year's activities and materials will focus on promoting importance of screening to ensure early diagnosis of type 2 diabetes and treatment to reduce the risk of serious complications. Because the number of people having diabetes increased drastically in the country and more young people suffered the disease, Deputy Health Minister Nguyen Thanh Long called for the support of all sectors, the government and the community in preventing the disease as well as increasing information to relatives, friends and people around them.
A representative from the World Health Organization pledged to help Vietnam in fighting the non-communicative disease in general and diabetes in particular. The Vietnamese government should focus on controlling consumption and trade of tobacco, wine and encourage people to have proper diets and activities to keep fitness.
The hospital said that as per a recent survey, the proportion of diabetes people in Vietnam accounts for 6 percent of the whole population, a doubled increase compared to early 2000s. additionally, the rate of undiagnosed people is high, accounting for 65 percent and more young people getting the disease because they consume too much food but they are lazy to practice physical exercise.
Worse, diabetes can go silently undetected for a long time without symptoms. Many people first become aware that they have diabetes when they develop one of its potentially life-threatening complications, such as  blindness, heart disease, blindness or nerve disease.
There are two main types of diabetes. Type 1 diabetes usually occurs during childhood or adolescence. Type 2 diabetes, which is the most common form of the disease, usually occurs in people who are 45 years of age or older. However, medical experts said that type 2 diabetes can be preventative if people live healthily, have proper diets and take regular physically exercise.