The port city of Hai Phong has reported more diarrhea patients in the last week, but Ha Noi and the neighboring province of Ha Tay did not report any new cases.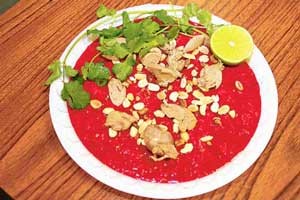 Duck blood pudding may be one of the causes of the diarrhea
A delegation sent by the Ministry of Health visited An Duong Market, the waterworks of Hai Phong City and the Viet Nam – Czechoslovakia Hospital. It found some serious problems in the market and in the hospital.  
The market could not be rated "clean" because many food shops still do not use showcases to store their foods and some shops are located next to sewage pits. Most shopkeepers did not use plastic gloves.  
The Viet Nam – Czechoslovakia hospital did not isolate and treat patients affected by contagious diseases in the specific sections. 
The Ministry of Health has prepared enough human resources, medicines and chemicals to support Hai Phong Province against the disease, according to Minister Nguyen Quoc Trieu.  
Mr. Trieu recommended Hai Phong not only to give much more information to the residents concerning the disease, but also to conduct more food safety inspections and disinfect the area.   
To date, all the victims caught the disease by eating raw vegetables, shrimp pastes, dog meats, or duck blood pudding, said Dr. Nguyen Tran Hien of the Institute of Hygiene and Epidemiology. The institute has already sent a delegation to inspect affected areas.  
After testing 130 vegetable samples from eight local markets and areas specializing in vegetable cultivation in Hai Phong Province, health officials discovered that the locals still spread night-soil mixed with water on their vegetable fields.  
No more residents contracted cholera in Ha Noi or Ha Tay Province within last week, according to Mr. Hien.