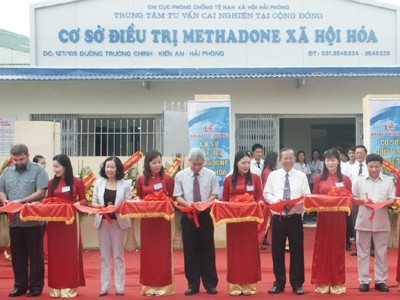 First people-funded methadone clinic in the port city of Hai Phong on June 18 (Photo: Vietnamplus)
Vietnam's Ministry of Health has proposed to the government to open more methadone detoxification centers in the country, as trial results of methadone use in Hanoi, the northern province of Hai Phong and Ho Chi Minh City have shown positive results.
Vietnam has used methadone for treating drug addicts for the last three years in nine provinces and cities, having at present 25 centers. 4,000 drugs addicts have successfully reduced their daily injection dosage as a result.
Their health has shown remarkable improvement and they have been able to find employment, subsequently staying out of further trouble.
The ministry now wants to open more centers in the northern provinces of Bac Kan, Bac Giang, Thai Binh, Hoa Binh, Cao Bang and Son La.