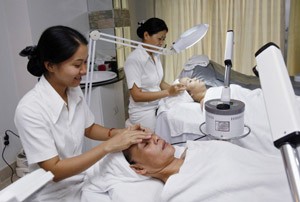 Employees of the local Milan Spa trait customer's skin in Ho Chi Minh City, Dec. 20, 2006 (AFP Photo)
With the Health Ministry set to take over oversight of the cosmetics industry from April, a ministry official said regulations would be tightened to ensure product safety and quality.
Cao Minh Quang, director of the ministry's Pharmaceutical Management Department, said domestic manufacturers of 20 kind of cosmetics, including body care products, make-up products, and detergents, would have to declare the product quality.
For foreign-made products, their importers would have to register with the authorities.
From next year all cosmetics manufacturers would have to adopt Good Manufacturing Practice (GMP) which requires manufacturers to have a quality system for design, manufacture, packaging, labelling, storage, installation, and servicing.
Those not registering would not be allowed to do business.
Control over the cosmetics industry was now fragemented since four different ministries oversaw them: The Ministry of Industry was in charge of production, the manufacturers registered their product standards and quality with the ministries of Science and Technology, and Health, and the Ministry of Trade inspected post-sales service.
Besides, of the five groups of cosmetics products directly affecting consumers' health, only face creams and shampoos came under close scrutiny; detergents, nail polishes, and perfumes were generally ignored.
But once the Ministry of Health takes over control in April, it would oversee manufacture and sales of all of them