The Drug Administration of Vietnam on July 1 ordered doctors to be cautious about prescribing the antifungal tablet 'Nizoral' after the French Agency for Safety of Medical Products decided to withdraw the drug from pharmacies nationwide.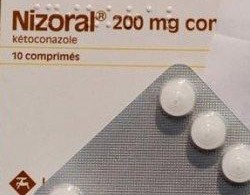 Nizoral 200 mg tablets
French health authorities banned the sale of Nizoral tablets, which are manufactured by the pharmaceutical group Janssen-Cilag, a unit of US-based Johnson & Johnson as Nizoral was found to contain toxics harmful to the liver when taken orally.
The health authorities asked medical workers to keep a close watch on the side-effects of Nizoral tablets when prescribing the drug to patients who suffer from various fungal and yeast infections, especially patients with liver diseases.
Nizoral tablets, produced in Belgium, are available in the market in Vietnam. They contain the active ingredient ketoconazole, which is an antifungal medication used to treat fungi and yeast infections.