The Health Department in the southern province of Binh Duong has asked the concerned medical staff of Binh Hoa Medical Ward to admit in writing acknowledgement of wrongly advising Hoa Binh preschool in the use of Chloramin B, a floor cleaning pesticide.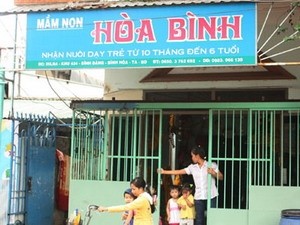 Hoa Binh preschool in the southern province of Binh Duong
On July 29, 27 toddlers aged 2-3 years of Hoa Binh preschool were rushed to the hospital for emergency treatment in a shocking incident where they were mistakenly fed milk mixed with floor cleaning pesticide. The incident occurred due to wrong guidance by medical workers of the Binh Hoa Medical Ward.
The Binh Hoa Medical Ward admitted that it had distributed Chloramin B floor cleaning pesticide and cereal milk powder to Hoa Binh preschool. When the preschool asked for instructions of usage, medics at the ward mistook Chloramin B for cereal milk and gave incorrect instructions.
The school maids at the Hoa Binh preschool also did not read the instructions on the Chloramin B packet and unintentionally fed the mixture to the children. Many grimaced as they were fed the bitter tasting mixture so the maids added more sugar to force the children to finish their drink.
What saved the children was timely emergency treatment and fortunately there were no fatalities. All the children have now been discharged from the hospital.
The preschool has been forced to shut down by authorities after this incident and also because it was operating without a legal license.
Related article:
Preschool mistakes pesticide for milk