Vietnamese Prime Minister wanted the herbs will become one of the country's valuable items, at a meeting with leaders of the Vietnam Material Medical Society yesterday in the government's office.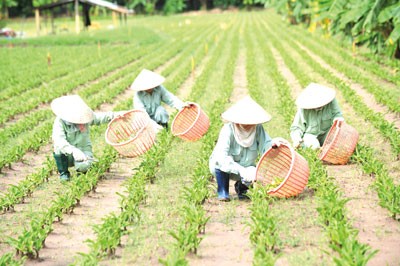 Workers are harvesting herbal medicinal plants (Photo : SGGP)
Speaking at the meeting, Association Chairman Ta Ngoc Dung said that because the supply is unable to meet the local demand, 80 percent of herbal medicine in the country are imported.
There has been no planning for local herbs and additionally, domestic production of medicinal plants did not meet the Guidelines on good agricultural and collection practices (GACP) developed by WHO.
At present, just 18 out of 300 kinds of Vietnamese medicinal plants are certified by WHO's GACP. Loose management threatened consumers' safety especially high-quality herbs being mixed with substandard ones while inspectors are unable to trace back the origin of the plants.
Stressing to Vietnamese quality, value and brand name, the PM said that it needs to attach plant production with traditional herbal medicine as well as the combination between traditional remedies and modern medicine.
The PM asked the Ministry of Health and related agencies to work out policies for the orientation of medicinal plant development which will be delivered in the upcoming meeting.