The Pasteur Institute in Nha Trang in the central coastal province of Khanh Hoa was directed Tuesday to assess a new treatment methodology to treat the hand-foot-mouth disease by the Ministry of Health.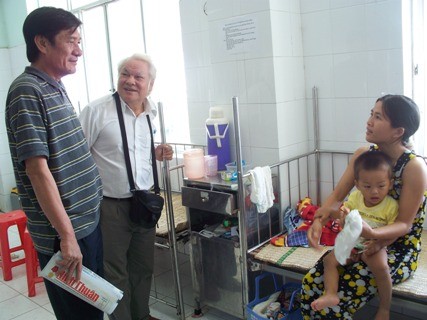 Dr. Khai (standing, in white shirt) and Vo Dai, deputy chairman of Ninh Thuan People's Committee examine a child recovering from HFMD
The Ministry of Health ordered a hurried assessment of the new methodology to cure the hand-foot-mouth disease, created by Dr. Nguyen Van Khai, former director of an energy-saving  center under the Institute of Science in Hanoi.
Dr. Khai has flown to the central province of Ninh Thuan, the first province in the country to declare a hand-foot-mouth epidemic, to treat affected patients with concentrated active solutions of Anolyte and Catolyte. His new methodology has so far proved effective in treating hand-foot-mouth patients.
Accordingly, the Ministry of Health has also ordered a scientific   assessment of Khai's methodology in as short a time as possible.
The ministry said it applauded all individuals who have created effective cures to fight the disease, however, this is a matter of life and death hence it needs scientific proof of confirmation.
With more than 2,600 children contracting hand-foot- mouth disease last week in 56 provinces and cities, the total number of patients in Vietnam this year has increased to 87,434 including 147 fatalities, according to the Ministry of Health.