Health Minister led a mission team to supervise measles prevention in hospitals in Ho Chi Minh City on April 28, she stressed pivotal role of media in raising people's awareness to vaccination.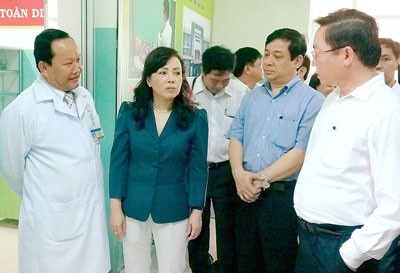 Health Minister visits a hospital in BInh Tan District to supervise measles prevention (Photo:SGGP)
People should understand that only vaccination can restrict cases of measles in children. It should combine mass communications and announcement at hospitals and medical clinics about immunization benefits.
Health officials should encourage parents to take their children to local clinics for vaccination, said Health Minister Nguyen Thi Kim Tien.
Practically, many parents are refusing vaccines because of fearing of risks to be happened during vaccination.

The city's Preventive Medicine Center director, Nguyen Tri Dung said that the number of patients with measles has increased significantly this year, with nearly 1,500 cases reported while in 2013 it was 404 cases.

Dung fretted that the rate of children having complications due to measles is higher than last year.

Medical workers said measles epidemic has abated following vaccination campaign.
Dr. Nguyen Thanh Hung, director of Children Hospital No.1 said around 30 cases of measles and rashes are being treated in the hospital.
However, most of cases are not severe. Dr. Nguyen Van Muoi, director of a hospital in Binh Tan District, said the hospital admits 5 inpatients, down by 50 percent compared to previous weeks.

The country has 23 new measles cases on April 27, bringing the total cases of 10,349 said The Ministry's Preventive Medicine Department.