Careless parents seem to be the cause of many severe and avoidable injuries in children these days, as is apparent from many reported cases in Children Hospitals in Ho Chi Minh City.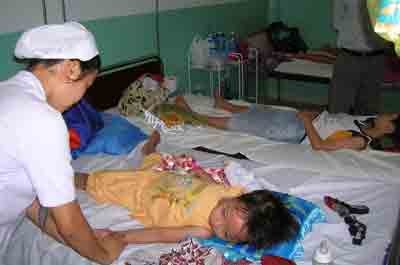 A medic takes care of an injured kid in Children Hospital No.2 (Photo: SGGP)
An 11 month old baby in the Mekong delta province of Long An was found crawling on all fours in his house, thrusting his small finger into electric sockets. He was rushed to the emergency unit of Children Hospital No. 1 in a serious condition as his breathing had stopped and his heart showed no pulse rate.
Dr. Nguyen Minh Tien of the Emergency Unit of the hospital receives more than 1,000 cases of poisoning and injuries in children annually, some even caused by snake and insect bites.
Dr. Tien said that parents and baby sitters must keep an eye on toddlers who are vulnerable to injuries as children are curious creatures and they constantly want to move about and explore.
The Department of Health in HCMC stated that injuries claim around 100 children of ages 1-14 each year.  During the first six months of this year alone, 20,000 kids were hospitalized and tens between ages 0-4 died from serious injuries. According to the Steering Board of Injuries in the city, most accidents happen at homes, classrooms and school premises.
For all its claims, the emergency units for children in district medical clinics are not as good as expected. Most district healthcare centers have no pediatric doctors. Moreover, medical schools have not concentrated on first aid training for children. Health authorities in HCMC said the city has 1,200 pre-schools but only 40 percent of the educational institutes have medics and 10 percent of them are not even fully trained.