Many Vietnamese social workers lacked a professional touch, but their role was still being ignored by most hospitals, said Tran Quy Tuong, deputy director of the Ministry of Health Medical Services Administration.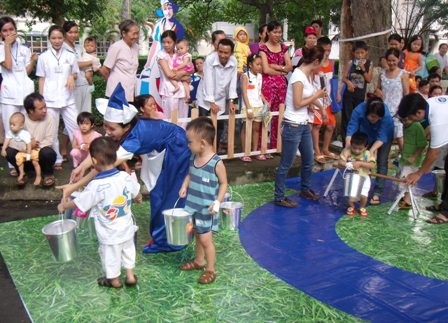 Social work will enhance the quality of the treatment at hospitals. However, many Vietnamese social workers lack a professional touch and their role is still being ignored by most hospitals, said Tran Quy Tuong, deputy director of the Ministry of Health Medical Services Administration.
Social workers are responsible for guiding new patients on the "ins and outs" of health procedures, supplying information on hospital services, giving them psychological support and organising charitable work.
In 2010, Prime Minister Nguyen Tan Dung and the Ministry approved a project to develop social working as a career for the next 10 years. Since then, only a few hospitals have benefited from the scheme because of a lack of people interested in the job.
A recent survey of 22 hospitals across the country showed that only five hospitals had a unit specialising in social work. But the organisation of the units varied from place to place. Units were under the managagement board at one hospital, but controlled by the nursing ward or youth union at other institutions..
Tuong said that social workers were the "bridge" connecting patients and hospital staff, providing benefits to both sides.If allowed to function properly, they were highly useful in helping rehabilitate and taking care of the mental health of patients, including the victims of domestic violence and abuse.
However, he admitted that most hospitals still thought that social work was simply a matter of supplying extra information on health care and connecting people with charity programmes.
Duong Thi Minh Thu, head of the National Paediatrics Hospital's Social Work Division, claimed the institution is the leading hospital in the north in implementing social work.
He said the hospital's social workers helped patients and medical workers understand each other, helped patients and their families clearly understand the hospital's procedures and health insurance matters. In 2013 alone, its social workers arranged 80,000 free-of-charge meals and VND4.4 billion (US$200,500) from charities to support poor patients.
Director of the HCM City-based 115-bed hospital, Phan Van Bau, said patients felt relieved to be surrounded by such caring and professional workers. He added that their work allowed busy doctors and nurses more time to attend to their own duties.
Tuong said the two hospitals were rare examples of health-care services that had activities in place to train and develop the careers of social workers. He added that the Ministry was compiling a circular regulating their responsibilities so that everyone knew, including medical staff.
When the circular is issued, management at hospitals will have to pay much more attention to developing social-workers' careers because it is a vital part of the treatment procedure.