The second bone marrow transplant performed in Viet Nan was carried out successfully on Sunday, said the doctors of the Central Hospital of Pediatrics in Ha Noi.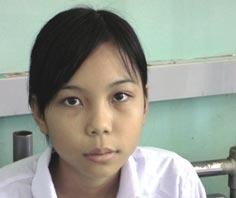 The patient Truong Thi Ninh
The patient was 15 year old Truong Thi Ninh, from the Mong Cai district of the northern coastal province of Quang Ninh.

She received stem cells from her 9 year old brother Truong Cao Che.
Australian experts were on-hand to assist the Vietnamese doctors through the process.
Both recipient Truong Thi Ninh and donor Quang Ninh regained consciousness shortly after the seven hour surgery.
Truong Thi Ninh has been suffering from marrow failure for years, having received blood transfusions in the past.
The consulting doctors reached consensus that a bone marrow transplant would be necessary for her to live.
At 15, she weights only 30 kilogram and her complexion has lost its color. Besides needing a donor, the family also had to rely on the generosity of benefactors to receive the transplant.