Patients and the broader healthcare system are desperately calling for a solution to a bed-sharing problem that has been protested for years, so far to little avail.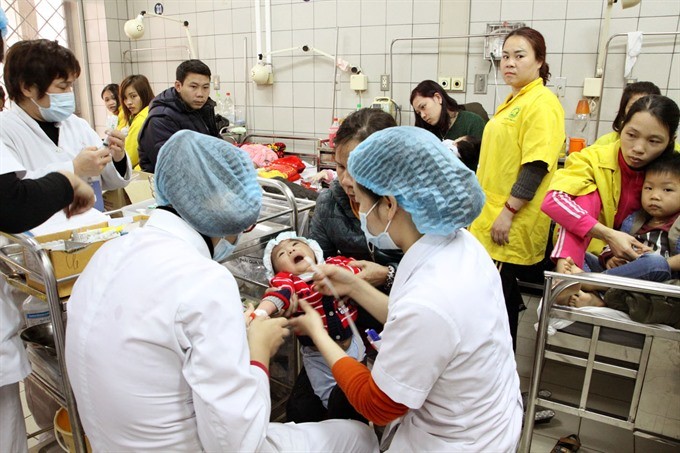 Patients have to share beds at Bạch Mai Hospital in Hà Nội during the recent cold spell. — VNA/VNS Photo Dương Ngọc
Nguyễn Văn Hùng and his wife came to the capital for hepatitis treatment from their hometown in Vĩnh Phúc Province, about 65 km to the northwest of Hà Nội. The wife was admitted to the National Hospital of Tropical Diseases for almost two weeks. But she was not given a bed of her own for a single day during her stay at the hospital.
"My wife always had to share the bed with another patient. It was so inconvenient for her to do anything, from eating to resting," Phúc told the Hải quan (Customs) newspaper.
His wife was not the exception. The Hải quan newspaper reported that it failed to spot a bed at the hospital that was occupied by only one patient as it was supposed to be.
That patients having to share their hospital beds with one or even two other patients, especially during seasonal disease breakouts, was nothing less than a common sight at even the biggest – and often the best – hospitals in Hà Nội and HCM City.
The Hà Nội-based Bạch Mai General Hospital's National Heart Institute was built with a bed capacity of only 278 beds but was forced to take in some 525 patients early this month, according to Hải quan. At least 264 inpatients were treated at Bạch Mai Hospital's Department of Neurology, while it only managed to provide 200 beds. The department tried their best to temporarily solve the problem by arranging two lines of beds along the hospital's corridor walls, leaving tiny space left for doctors, nurses and patients to move around.
New mothers who chose the National Hospital of Obstetrics and Gynecology to deliver their babies suffered from the same issue. Nguyễn Thị Hương was forced to stay with another new mother on a bed post-delivery. Hương and her family both complained how inconvenient the bed-sharing was, particularly at a time when the mother needed to rest the most.
Bed-sharing is mainly caused by the number of patients who chose not to attend smaller, local hospitals and instead came to big central-level hospitals with better treatment. Many cited weak healthcare capability of municipal-level hospitals that caused such influxes of patients to the hospitals in Hà Nội and HCM City.
The Ministry of Health's Department of the Medical Examination and Treatment Director General Lương Ngọc Khuê put the blame on big hospitals, claiming their leaders "showed little interest" in supporting training in satellite hospitals in order to reduce the overload.
The latest report of the Department of the Medical Examination and Treatment shows that a dozen of central-level hospitals were yet to sign the national commitment of bed-sharing prevention. Bạch Mai hospital and the National Hospital of Obstetrics and Gynecology were among those.
Bạch Mai Hospital's Department of Planning and Administration Head Dương Đức Hùng explained that his hospital usually had to stretch their capacity to receive some 4,000 inpatients in serious conditions, while it only had 2,300 beds available.
"And it was very difficult to contact other hospitals to make the patient transfers," he said.
Other central-hospitals were also heavily strained. while several municipal-level facilities simply could not meet medical demand to treat seriously sick patients.
The solution to bed-sharing has been clear from the beginning: raise the medical capability of municipal-level hospitals to gain trust of the residents who will consequently give up travelling from their far-away hometowns to big hospitals for treatment. Yet the answer to how to do so has already taken much more time than it should and seems unlikely to be addressed in the next few years.
In the meantime, bed-sharing at hospitals will, unfortunately, continue to be the hospital norm in Việt Nam.