With bird flu threatening human lives nationwide, the Ministry of Health has approved human testing of Vietnamese-made H5N1 vaccine by the Institute of Hygiene and Epidemiology.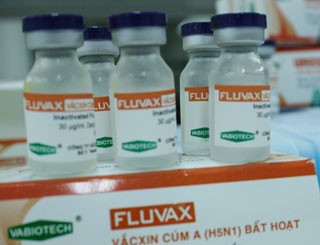 Fluvax, the new H5N1 Vietnamese-made vaccine, is going to be produced if human experiments have achieved success
Four years of painstaking research on an H5N1 vaccine for humans is about to end, said Dr. Nguyen Thu Van, director of Vaccine and Bio-Technology Products Company No. 1.
Human tests are a key factor in deciding whether the vaccine can be manufactured and marketed, she added.
This strain of the influenza virus has existed since 1961, according to Dr. Van. However, it was known to infect only birds until it was associated with human illness in Hong Kong in 1997, when it killed six persons.
Since late 2003, the highly pathogenic H5N1 influenza A virus has spread among poultry and wild aquatic birds in Asian countries including Viet Nam.
The World Health Organization's warns that the bird flu virus could mutate into a form that could cause a human epidemic if scientists do not find a vaccine.
People are being advised to receive inoculations against standard human flu as this may offer some protection against avian flu. This is most likely to occur if a human becomes simultaneously infected with both 'bird flu' and 'human flu'.
With a strong determination to look for an effective vaccine against bird flu, the Institute of Hygiene and Epidemiology began its research on H5N1 vaccine in 2004 by implanting the virus into monkey kidney cells instead of on embryo eggs.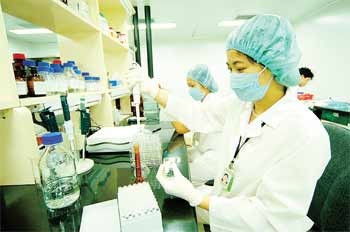 The Institute of Hygiene and Epidemiology's researchers are making experiments at the laboratory(Photo:SGGP)
The institute's efforts have been rewarded as experiments on mice achieved success on January 17, 2005.
Later, hens and monkeys were injected because hens are vulnerable to the disease while monkeys are the primate whose biological characteristic is most like humans.
One month later, they received a report that monkeys stayed healthy after being vaccinated.
WHO highly values this institute's research work and has provided US$25,000 for further experimental production of the vaccine.
The Ministry of Health has given the go ahead for human experimentation on 10-20 volunteers, as well as a follow up involving 200-300 volunteers. The fact that 10 staff members of the National Institute of Hygiene and Epidemiology have volunteered to proves that these scientists place the community's safety first.
If the first 10 volunteers remain healthy, doctors will administer a second set of injections on April 4. If no hiccups take place along the way, Vietnamese-made vaccine will then be produced to meet public demand.
Nha Trang National Institute of Biological Products and Vaccine Production announced that its researchers have developed complete production procedures for the vaccine from fertilized hen eggs. The Institute is asking the go ahead for an experimental H5N1 vaccine on human.