A conference, held by the Ministry of Health on January 8, had met to discuss how to raise treatment quality with the participation of Health Minister and hospitals directors.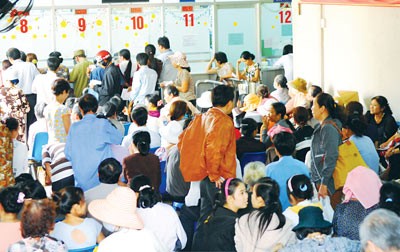 Over-crowded patients in Cho Ray Hospital (Photo: SGGP)
Hospital directors acknowledged that a public concern of treatment quality in past time is rights due to overloading in medical clinics.
Luong Ngoc Khue, head of the ministry's Medical Examination and Treatment Department, said that meanwhile the ministry is seeking an effective measure to tackle the matter, each hospital should make concerted efforts to raise treatment quality including dressing the procedures.
Dr. Nguyen Quoc Anh, director of Bach Mai Hospital in Hanoi, said that thanks to improving procedure, it reduced much waiting time for patients meanwhile Dr. Nguyen Truong Son, head of Cho Ray Hospital in Ho Chi Minh City, said young volunteers of Youth Communist Union have helped patients to right place; accordingly, it saved time.
The meeting participants admitted that physicians should practice medical ethics more but on the other hand, the society should pay attention to the sector.