The Ministry of Health will deal harshly with importers, vendors and prescribers of poor-quality herbal medicines, Deputy Health Minister Cao Minh Quang said.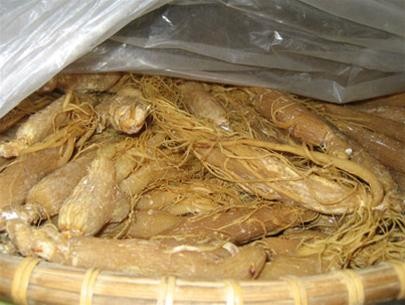 Panx Ginseng, a rare herbal medicine, sells for only VND 5,000 apiece
His warning follows the discovery that some imported brands like Astragalus Membranaceus Bunge and Panax Ginseng yield no therapeutic benefit as their medicinal components are missing and were presumably extracted long before.
That's why they cost only VND200,000 for an entire kilogram when bought over the counter.
Perhaps it's not surprising given that only 19 of the 200 herbal drug businesses in Ha Noi are actually registered, and the situation is almost certainly the same elsewhere in the country.

A ministry inspection in Ho Chi Minh City's District 5 found that 70 per cent of the oriental medicines for sale were illegal imports and that some of the drugs were out and out scams.

In all, 55 herbal shops were found to be breaking the law, leading the inspectors to say that the quality of herbal medicine was "out of control".

As a result, the ministry insisted that the city's inspectors work with the relevant government agencies to improve their supervision of importers, and told them to seize and destroy any medicine without a genuine certificate of origin.

To make the inspectors' job easier, border guards and customs officers will be told to check inbound freight more carefully and curb the smuggling of illegal substances into Viet Nam.

The Ministry of Health only allows 15 kinds of herbal medicine to be sold in Viet Nam, but in reality the market is flooded with local and foreign brands.

The situation is such that 90 per cent of the herbal drugs available in the marketplace cannot be checked.