Minister of Health Nguyen Thi Kim Tien visited hospitals in Ho Chi Minh City on Monday to find solutions to ease overloading of patients in hospitals, a matter of grave concern to the Ministry.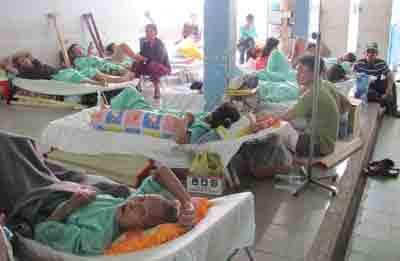 Patients at the Traumatic Orthopedic Hospital being treated on beds arranged along corridors (Photo: Sai Gon Giai Phong)
Minister Tien visited the Tumor hospital, the Children No.1 hospital, Cho Ray and the Traumatic Orthopedic Center. In all the hospitals, the minister and his team members had to elbow their way through throngs of patients.
The health team noticed that at times two patients had to share a bed or beds were arranged in corridors or long queues of patients waited their turn for an X-ray or treatment. This scenario was repeated in all the hospitals.
After surveying the hospitals, the health minister concluded that people from the countryside were coming to big city hospitals, which was the reason for the heavy overload. It showed that district hospitals were inadequately equipped to handle patients and cope with the pressure of too many patients.
Minister Tien was apprised by hospital leaders that although the number of patients increased year-on-year, there was still a   shortage of personnel and facilities.
Minister Tien appreciated the efforts of the city hospital staff to cope with the overload of patients by working overtime.
However, the basic problems still need to be resolved and the health sector must look at the possibility of transferring patients to district hospitals to reduce burden of large hospitals, besides also investing in upgrading district hospitals, Tien said.