Deputy Prime Minister Pham Gia Khiem said there will be a change in health care service payments for children under six; as a result, health care services for them will be paid in a form of medical insurance.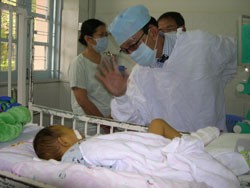 Doctor examizes a child patient

Deputy Prime Minister Pham Gia Khiem requested that the Ministry of Health, the Vietnam Commission for Population Family and Children (VCPFC), the Ministry of Finance, Ministry of Justice and relevant agencies supplement and propose some amendments to the Decree No. 63/2005/ND-CP dated May 16, 2005 and the Decree No.36/2005/ND-CP dated March 17, 2005 on the Government promulgating regulation on Health Insurance and Law on Child Care, Protection and Education.
The said ministries and agencies are responsible for carrying it out when the government passes the supplemental regulation.
At present, children under six with health care cards receive free medical examination and treatments .