Ho Chi Minh City health sector prepared everything for examination and treatment of emergency cases in Tet holidays that are nearly coming.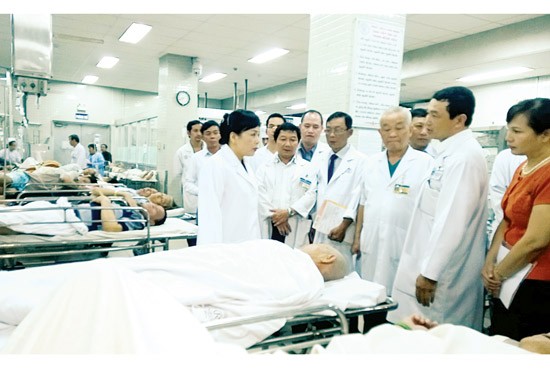 Health Minister Nguyen Thi Kim Tien visits Cho Ray Hospital in HCMC for treatment preparation on Tet holidays (PHoto: SGGP)
All hospitals are ready for treatment of emergency case in these holidays. Especially hospitals allocated medicines and ventilators for victims of traffic accidents and food poisoning cases that often occur on these days.

Though it is not peak time of dengue fever, the city has several cases of dengue fever in residential blocks. According to the municipal Department of Health, in three first weeks of January, 2016, the city had 679 hospitalized dengue fever cases, a decrease of 24 percent compared to these average cases of 4 weeks before with 896 cases. No death was recorded.
However, director of the Department Dr. Nguyen Tri Dung said that the health sector would increase calling for the public attention to the disease and prevention in these wards having same cases of dengue fever compared to month before. On the other side, the sector will have differently proper prevention ways based on specific situation. Meantime, there have been scattered cases of hand-foot-mouth disease.
Through observation in three first weeks of the year, there have been 65 hospitalized cases of hand-foot-mouth across the city, a decrease of 40 percent compared to 4 weeks before with 108 cases. To control the disease, the city health authority kept control the disease in preschools and increased public awareness of the disease as well as manage cases in residential quarters.
Along with this, medical experts fretted about the complicated development of Zika virus in Brazil which widely spread in many countries in the world. HCMC is one of the city with large number of tourists; therefore, it is highly likely that the virus could enter into the country.
Additionally, the Ministry of Health ordered local governments to control bird flu and other influenza since there are as many 62 as outbreaks of bird flu caused by viruses A/H5N1 and A/H5N6 in some cities and provinces.
Hospitals arranged more medical workers for Tet holidays as there are many cases of traffic accident injuries in Tet holidays and hospitals' Haematology and Blood Transfusion collected as much as blood for emergency cases.
To ensure best treatment for people during Tet holidays, the municipal Department of Health has sent a document asking all medical facilities in the city to work around the clock. In cases of fire or explosion, the Department with other related agencies will support the hospitals. The hot line for medical emergency must be through so that residents can call when necessary.