As of October 7, Ho Chi Minh City has 30 the mosquito-borne Zika virus infection cases and four infected pregnant women.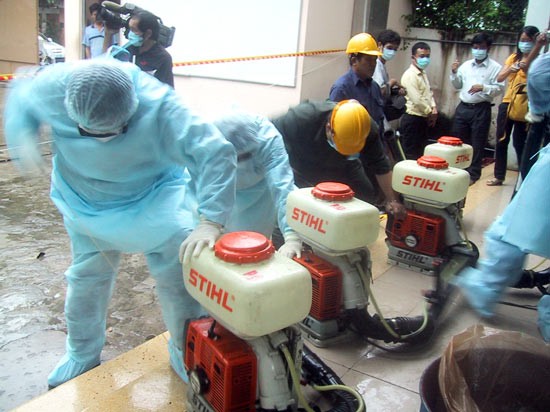 Medical workers prepare to spray chemical to kill mosquitoes (Photo: SGGP)
District 2 is the first district in the city reported the first case and it is one districts with most cases. Chief of the Department of Preventive Medicine in district 2 Dr. Phan Thanh Phuoc said that health workers sprayed chemicals to kill mosquitoes in patients' neighborhood as per the Ministry of Health's guideline as well as provided consultation to patients and their relatives and raise residents' awareness of the disease.
Yet the district has many construction works so the environment around is not clean creating favorable condition for mosquito growth.

Districts Binh Chanh, Hoc Mon, Thu Duc, Tan Phu, 8 and Tan Binh are most vulnerable to the disease. Districts 9, 12 and Binh Thanh has the high infection cases with four patients; followed by districts 2, Tan Phu, Hoc Mon with three cases. Yet local governments and residents in these districts are neglected prevention tasks.

Head of Pasteur Institute Professor Phan Trong Lan said that Zika virus cases will spread in the next time because the virus circulates in the community.

One of complication of Zika virus is that the virus has been linked to microcephaly, a condition that causes babies to be born with small heads. Therefore pregnant women should be cautious especially in three first months of the pregnancy.
However, women should not be so worried because Head of the Department of Preventive Medicine Dr. Tran Dac Phu said that the rate of infected pregnant women who has microcephaly babies is just 1-10 percent.

As per the Department of Health in Ho Chi Minh City's report, at least four pregnant women have infected with the virus since March, 2016 and one of them had miscarriage due to her psychology not Zika virus.