Among provinces with dengue fever outbreaks, Hanoi is fast becoming the worst affected area, with the number of recent infections skyrocketing. This has led to many hospitals in the city becoming overcrowded, the Ministry of Health said October 30.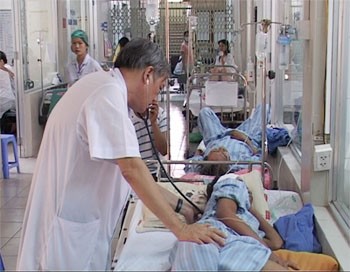 Dengue patients are currently treated at the National Institute of Infectious and Tropical Diseases (Photo: dantri)
The National Institute of Infectious and Tropical Diseases currently receives a daily average of 300 people with dengue fever, 15 percent of them are seriously ill. Five patients have died.
Other hospitals, like Saint Paul, Dong Da and Thanh Nhan, see about 200 patients a day despite each having just has around 50 to 60 beds. Three to four patients are sharing the same bed with others being treated in hospital corridors.
Dr Nguyen Van Kinh, the institute's director, said that the epidemic in Hanoi was caused by two kinds of virus, including D1 and D2. The number of dengue patients in the city has reached 8,000, 15 times higher than last year.
Explaining the severe outbreak of dengue this year, he said that every ten years, Hanoi sees a wide outbreak of dengue fever, which is continuing that cycle.
In addition, Hanoi recently experienced severe flooding which seriously affected the local environment.
Around many of the city's districts, the density of dengue mosquitoes has been far higher than the threshold to cause an official epidemic.
Dr Nguyen Huy Nga, head of the Preventive Medicine and Environment Department, said that the country, so far, has over 72,000 dengue infections, which may continue to rise in the coming months.
Related articles:
PM orders urgent dengue prevention measures
Dengue fever sees nationwide resurgence