The Department of Preventive Medicines has recorded 20,000 cases of hand-foot-mouth disease, including 56 deaths, in 47 provinces across the country in recent months, with over 2,000 patients registering for treatment each week.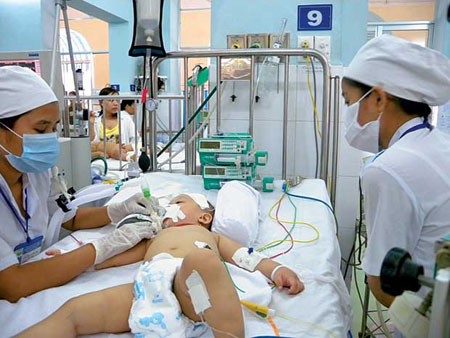 Doctors examine an infected child in the Children Hospital No.1
Dr. Nguyen Van Binh, head of the Department of Preventive Medicines said the increase in hand-foot-mouth (HFM) disease cases and fatalities has shown that the disease is developing and spreading unpredictably and rampantly.
During the past three years, the country has recorded approximately 10,000 HFM cases with over 20 reported deaths per year.
Due to the wide spread nature of the disease, Dr. Truong Quoc Cuong, chief of the Vietnam Drug Administration has ordered all departments of health across the country and pharmaceutical companies to maintain adequate supplies of the required medications in hospitals and medical clinics and avoid shortage at all times.
The people's Council of Ho Chi Minh City also met with the people's committee of district 8 to discuss HFM prevention measures in the district as it has the most number of reported cases. During the first six months of the year, district 8 has reported 363 cases of HFM, 3 deaths and 487 cases of dengue fever.
District leaders blame the cause of the wide spread infection on the multitude of migrants living in the district, with 233,000 children being under the age of five. Most people live along the canal and river banks with little heed to personal hygiene.  Furthermore, the district adopted a lax attitude in the early stages of the development of the disease, by not implementing appropriate preventive measures.
The city People's Council has ordered the district to step up propaganda and awareness of the disease in order to persuade residents to improve their personal hygiene habits.
The city People's Council was also keeping track of the latest developments of the disease by coordinating with Children Hospital No. 2. Dr. Ha Manh Tuan, director of the hospital, said the present overload at the hospital was due to the increase in patients. Since the beginning of the year, the number of HFM patients had increased five times than in the same period last year.
Dr. Nguyen Ut, deputy head of the Department of Health in the central city of Da Nang, was concerned with the escalation in HFM cases. The maternity hospital alone admitted 50 patients including nine very serious cases on July 21.
Serious outbreaks of HFM have been reported in the central province of Quang Ngai where over 2,800 children have been affected with 5 reported deaths. Dr. Ho Minh Nen from Quang Ngai is concerned with the fact that some cases also occurred in the mountainous districts of the province, which is normally more immune.