Since the beginning of this month, more than 170 infants have been hospitalized every week with hand, foot and mouth disease, 30 percent of them with serious complications, the Ho Chi Minh City Health Department reports.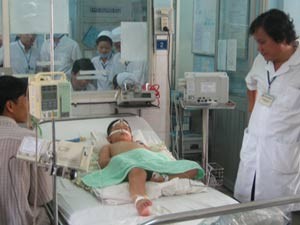 A victim of hand, foot and mouth disease

Dr. Tran Thi Thuy of the infectious diseases ward at Children's Hospital II in Ho Chi Minh City says more than half of the ward's 213 infants have the disease, and a dozen of them are suffering from brain complications.

Since hand, foot and mouth develops rapidly, two infants have died before they could be taken to the emergency unit.

The disease is also ravaging Children's Hospital I. Dr. Truong Huu Khanh, head of the hospital's infectious disease unit, says the number of hand, foot and mouth patients has risen five-fold since August.

What worries him most is that the disease has broken out much earlier than in previous years, when it peaked in March or November.

Dr. Le Truong Giang, deputy director of the HCMC Health Department, is urging the authorities to take urgent action to contain and eliminate hand, foot and mouth, above all by sanitizing every school and classroom.

The disease is caused by the Coxsackie and Enterro 71 viruses, which lurk in toys and food, so parents should pay careful attention to their children's food and surroundings.

Moreover, doctors are advising parents to seek medical help if their child has a fever and especially if they notice blisters on the hands and feet and ulcers in the mouth.