Half the swine flu-infected people show no symptoms of the disease, Dr. Nguyen Huy Nga, head of the Department of Preventive Health, has warned.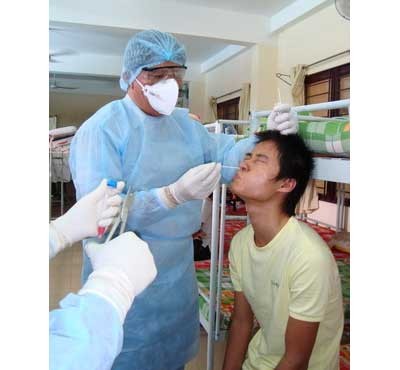 A medical worker in HCMC takes nose fluid samples from a suspected swine-flu victim for tests. Fears are growing in Vietnam the disease could become a pandemic. (Photo; Tuoi tre)
Speaking at a meeting of the Steering Board on Human Influenza Prevention in Hanoi on July 22, he said as a result there is a grave risk of the spread of the disease in the wider community, sometimes with fatal results.
A further 32 people were diagnosed with the disease on the 22nd, taking the nation's tally to 475.
But it has been contained in Viet Kieu village in Dong Nai province which suffered heavily from the H1N1 flu outbreak with 70 cases.
Health authorities remain concerned about a possible pandemic since students at Ngo Thoi Nhiem High School in Ho Chi Minh City's District 9, who had been in contact with afflicted students, have returned to their hometowns in the central provinces of Khanh Hoa and Phu Yen, the Central Highlands provinces of Dac Lac, Dac Nong, and Lam Dong, and the southern province of Binh Duong for the summer vacation.
The HCMC Department of Health (DoH) announced the school has six more students with the flu, taking the number of victims to 65, including four teachers. All of them are in stable condition.
The Ministry of Education and Training said it has set up a mission to lead the task of preventing the spread of the disease at schools but ordered educational establishments in the country to set up their own committees to coordinate action against the epidemic.
Also at the meeting, Dr. Tran Tinh Hien from the city's Tropical Diseases Hospital said his hospital has admitted a 19-year-old student from District 5 studying at the Royal Melbourne Institute of Technology.
A school spokesperson, Tran Huynh Nha Tran, said the city Preventive Health Center has asked students who were in close contact with the affected one to quarantine themselves and quickly inform medical workers about their health conditions.
Dr. Phan Van Nghiem of the DoH said his agency is worried people in the community will contract the disease and has set up six inspection teams, each in charge of four districts. They will first visit high risk places like industrial parks, rented houses, dormitories, and boarding schools.
Since the city's Pasteur Institute and Tropical Diseases Hospital are overloaded with samples that require testing, some authorities have called for stopping testing altogether.