A government task force led by Health Minister Tran Thi Trung Chien held a working meeting with Ha Noi City authorities to provide them with techniques to monitor and control outbreaks of the bird flu.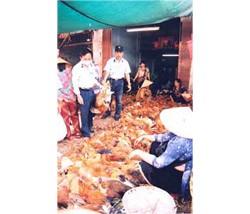 Live poulty is still sold at temporary markets
Participants at the meeting were told that their number one priority should be preventing the bird from entering the city.
Around 60 tons of poultry is consumed daily in the capital, 60% of which comes from other provinces. Since it's very difficult to control the sale of live fowl at temporary markets, the risk of outbreaks is very high.
In related news, an ecological conservation area in the Mekong delta province of Tien Giang will temporarily be closed to visitors as incidents of bird flu there are on the rise, said an official on the managing board.
The board intends to carry out sterilization activities in the region three times a week. There are approximately 10,000 birds in the area.