Vietnam's Ministry of Health (MOH) and the World Health Organization (WHO) have so far assessed that the new H7N9 virus strain is only contained in birds, with no evidence of any transmission to humans.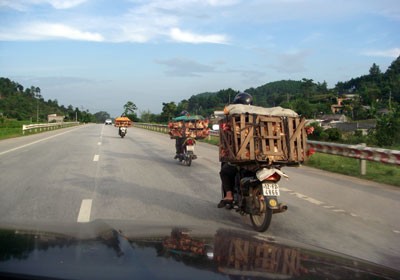 Vietnam tries to crack down on smuggling of poultry and sales of unsafe poultry products in border crossing (Photo: SGGP)
So far there is no record of virus infection in humans or evidence of human to human transmission; however, it has occurred in China.
More than 700 people who have been in direct contact with infected people are now under close watch.

MOH, WHO and related international agencies in Vietnam have closely coordinated to implement supervisory measures and maintain alert to any signs of the disease being transmitted to humans.

On April 13, MOH and the Ministry of Agriculture and Rural Development instructed 33 cities and provinces to adopt preventive measures to curb the spread of this deadly virus, beginning with protecting people from contracting the deadly virus at the initial stage.

Tran Dac Phu, deputy head of the Department of Preventive Medicine, said that the World Health Organization has to date recorded 43 H7N9 infectious cases in China, including 11 fatalities.

The deadly virus had earlier struck four Chinese localities, namely, Shanghai, Anhui, Jiangsu and Zhejiang. More critically, even the capital city of Beijing recorded one case. No cases of H7N9 have been reported outside of China so far.

All cases of H7N9 infection in China experienced symptoms of fever, respiratory problems, and in some cases severe pneumonia. The gestation period is 15 days hence there is high risk of fatalities.

Although no cases of infection have as yet been reported on people or water fowl in the country, MOH affirms that precautionary measures have been put in place in many localities, since there is high possibility of H7N9 virus entering the country from China due to rampant poultry smuggling in border crossings.

Tran Dac Phu, deputy head of the Department of Preventive Medicine, noted that Avian Flu infection in the country is very complicated. Dong Thap Province in the Mekong Delta has recorded one fatality from H5N1 virus and several other cases of H1N1 and H3N2 virus infections are sometimes reported from other parts of the country.

MOH has stepped up control and inspection of poultry after many outbreaks of H5N1 in the central provinces of Khanh Hoa, Ninh Thuan, and the southern provinces of Tay Ninh, Tien Giang, Kien Giang. More than 32,000 poultry have been slaughtered so far, said Cao Duc Phat, Minister of Agriculture and Rural Development.

More alarming was when thousands of Salagane birds were found dead in Ninh Thuan Province due to H5N1 virus. The Ministry of Agriculture and Rural Development has bought 40 million dozes of poultry vaccine for future use should any outbreak occur.

A challenge to medical experts is that H7N9 virus has unclear origin and unlike other strains that are first detected in poultry, the H7N9 is discovered in humans first. Such has been the case in China where no poultry has been found dead due to the virus, yet humans have been infected.

Departments of Animal Health across the country have been asked to be on round-the-clock vigil and remain alert for outbreaks of Avian Flu in birds and water fowl, as well as to work with related agencies to crack down on smuggling of poultry and sales of unsafe poultry products in markets.