The rate of mother-to-child transmission of HIV in the country fell by 16 per cent between 2009 and 2015, but health experts have said that more needs to be done to reach the goal of having a transmission rate of under 2 per cent by 2020 nationwide.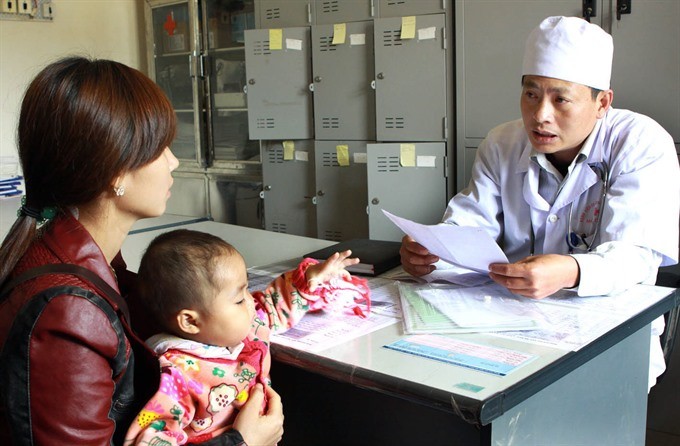 A medical worker helps people affected with HIV/AIDS in Mộc Châu District in the northern mountain province of Sơn La. The rate of mother-to-child transmission of HIV in the country fell by 16 per cent between 2009 and 2015. Photo VNA/VNS Dương Ngọc
Many pregnant women in the country are not aware that they are infected with HIV until they are diagnosed during labour or after birth.
A 24-year-old pregnant woman from Nha Trang in the south-central province of Khánh Hòa, for example, was diagnosed with HIV in the operating room prior to delivery.
The woman had been advised to test for HIV infection during her pregnancy, but she had refused.
After birth, the baby was given a preventive drug, and four weeks later, the infant tested positive for HIV.
Dr Raphael Landovitz of the David Geffen School of Medicine at the University of California at Los Angeles, said it was "very dangerous if pregnant women with HIV do not know their status and go without treatment."
"The chance of infecting the baby is 25-30 per cent if untreated. In the case of treatment, the chances are small," he said during an interview at a recent HIV research conference in Chicago.
Dr Dư Tấn Quy of HCM City's Paediatrics Hospital's Neurology and Infectious Diseases Ward said that the hospital had admitted nine children with HIV since the beginning of the year, an increase of two cases compared to the same period.
Of these, six cases were from other provinces and the rest from the city, he said, adding that two of the nine children had died due to severe complications caused by HIV.
In the first eight months of the year, seven new HIV infections were diagnosed among children, according to the HCM City AIDS/HIV Prevention Centre. Compared to the same period last year, the city has not seen an increase in the number of cases.
During the same time period, the city's hospitals admitted 15 new HIV-infected cases from other provinces and cities, a rise of four cases against the same period last year.
Of the 15 cases, eight children died because HIV was detected too late.
Dr Trương Hữu Khanh, head of the Paediatrics Hospital's Neurology and Infectious Diseases Ward, warned that more serious measures to prevent mother-to-child transmission (MTCT) of HIV should be taken.
"If not, the rate will not continue to fall," he said.
Provinces' capabilities
Dr Trần Thị Đoan Trang, who is in charge of the AIDS/HIV Prevention Centre's programme on the prevention of mother-to-children transmission of HIV, said that many of the 15 pregnant women had never been tested for HIV.
The 15 women were from provinces that lack funds and medical tools for HIV tests for pregnant women.
Funds have also fallen because international aid for HIV testing to Việt Nam has been cut or reduced in recent years.
Unlike HCM City, many provincial People's Committees do not allocate funding for free tests, she said, adding that such tests are provided at district-level health facilities in HCM City.
As the city cannot financially support the large number of pregnant women from neighbouring areas, the Ministry of Health has approved a plan by the HCM City Department of Health to collect fees for the tests at large obstetrics hospitals like Từ Dũ, Hùng Vương and others.
HCM City is now integrating MTCT prevention into its reproductive health care. Trang said that more emphasis would be given to the importance of prenatal examinations, early HIV tests and anti-retroviral (ARV) therapy. The rate of MTCT in HCM City is under 3 per cent, she said.
Private health facilities
Trang of the city's AIDS/HIV Prevention Centre said that HIV tests for pregnant women were not available at many private health facilities.
"The centre has organised many workshops to provide information on the MCTC programme to private health facilities, but only several of them have attended," she said.
To carry out the programme more effectively at private health centres, she said the Department of Health's division for private health facilities management should work with the People's Committee and the Centre for Reproductive Healthcare.
Catherine Hankins, deputy director of science at the Amsterdam Institute for Global Health and Development, said: "We do not have a vaccine yet, so the best approach is to strengthen the offering of an HIV test in antenatal care and to strengthen antenatal care first, if needed."
All pregnant women should be offered the HIV test routinely at the first doctor's visit, she said.
The father of the baby should also be offered the test at the same time, she said, adding that this could help identify HIV-negative women who are at risk from an HIV-positive regular partner.
A second test should be taken later in pregnancy for those at ongoing risk (either from themselves or from their partners, who may be at risk from use of injected drugs or sex with other people).
This can help women who tested negatively during the first test to receive anti-retroviral medication quickly, to protect both her health and the baby's.
"As for taking the medication, it's not just for pregnancy. It is taken for life," she said.
Hankins said that focus groups should be conducted in Việt Nam to discover what barriers and facilitators exist for women who must take the medicine regularly.
At an HIV Research for Prevention conference held in Chicago in mid-October, promising early reports on antibodies that might reduce the need for anti-retroviral medication were presented. But these studies were in animals only, so more research is needed.
Improving awareness
Trang said that awareness about testing and medicine among pregnant women was still low.
Of the seven babies born with HIV in the first eight months of the year in HCM City, four of the mothers had not taken their medicine as required.
Temporarily stopping the use of medicine can lead to further resistance, Trang said, adding that the women need more community support and counselling from health centres about these issues.
Community and health centres have been told to focus on raising awareness as well as the use of contraceptive methods as several women with HIV have had multiple pregnancies.
At the HIV Research for Prevention conference in Chicago, experts also discussed the effectiveness of silicone vaginal rings for HIV prevention and a paediatric vaccine to prevent breast-milk transmission of HIV type 1.
Engaging male partners and fathers as parents who want healthy children is also vital to continued success, according to UNAIDS's 2016 Prevention Gap report.
Successfully engaging men in testing and treatment to prevent HIV transmission reduces the number of new infections in women, and the greater engagement of men can improve results at every step.
Men need to be involved in family planning, with reproductive health positioned as the domain of both sexes, and more emphasis should be placed on promoting and facilitating couples testing, according to the report.
Scientific advancements and experience have shown that immediate and lifelong antiretroviral therapy for pregnant women diagnosed with HIV is more effective than on-again, off-again approaches.
In 2015, the World Health Organisation (WHO) recommended that all pregnant women be provided with what WHO calls Option B+, an approach that involves an immediate offer of lifelong anti-retroviral therapy, going beyond pregnancy, delivery and breastfeeding, regardless of the patient's CD4 white blood cell count.
The global roll-out of Option B+ in 2015 improved suppression of viral loads during both the breastfeeding period and afterwards, making future pregnancies safer.
Việt Nam is one of 10 countries in the Asia Pacific region (along with China, India, Indonesia, Malaysia, Myanmar, Pakistan, Papua New Guinea, the Philippines and Thailand) that accounted for 96 per cent of the region's new HIV infections in 2015.