The Ministry of Agriculture and Rural Development announced at a meeting on September 17 that after checking fruits batches imported from China between August 10 and September 10, authorities discovered that fresh plums and pomegranates contained carbendazim and tubeconazole, and fresh grapes contained difenoconazole.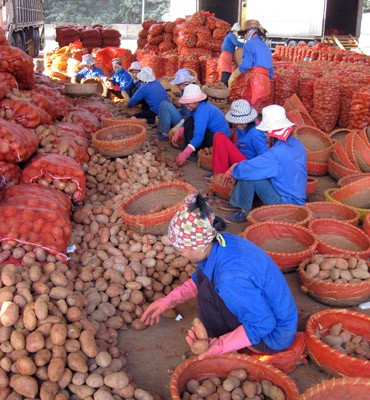 Potatoes imported from China also contain harmful chemical residues. (Photo: SGGP)
Up to now, fresh grapes imported from China were still considered as the riskiest fruit which contained harmful chemical residues.
Nguyen Xuan Hong, head of the Plant Protection Department under the Ministry of Agriculture and Rural Development, said that the chemical residue level in these fruit batches was 1.5 to 5 times higher than permissible limits.
Although the level of chemical residue contained in the fruits was not at cancer-causing level, it possibly could cause food poisoning, intestinal diseases, and digestive problems. If the consumer eats these fruits for a long time, chemical residues will have a bad effect on the kidneys and liver, said Mr. Hong.
Mr. Hong said that he will penalize the importers for violating regulations on food safety. For importers who import fruits discovered having harmful chemical residues, the next time they import, authorities will check chemical residues on 30 percent of their total batch. If they continue to violate food safety regulations, authorities will impose an all-out check. And if importers still fail the third round of checking then authorities will suspend the firm's operation until it proves to follow on good practices.
The Plant Protection Department continued to give warnings of the risk of using bean sprouts and vegetable sprouts in salads, after authorities collected 50 samples in Hanoi for analysis. The test showed that 40 percent of raw vegetables, bean sprouts, and vegetable sprouts were infected with E.coli, Samonella, and Listeria bacteria which cause dangerous intestinal diseases.
Mr. Hong said that consumers should not use bean sprouts and vegetable sprouts with unclear original markings or only use them for cooking.
Cao Duc Phat, minister of Agriculture and Rural Development, has ordered relevant departments such as Department of Cultivation and Plant Protection Department to inspect vegetable gardens to ensure safe vegetables and farm produce for consumers. He ordered the Plant Protection Department to map out areas where unsafe vegetables are grown so as to instruct local authorities to prevent unsafe vegetables from entering the market.
He also asked the Plant Protection Department to check the quality of fresh and dried bamboo shoots in the market; the Department of Husbandry and National Agro-Forestry-Fisheries Quality Assurance Department to check dried beef and sea fish, as consumers have been concerned that sea fish is preserved in urea.