Foot-and-mouth disease has reappeared in Thanh Hoa province and many cases have been detected in the districts of Ha Trung and Vĩnh Loc and in the town of Sam Son, Veterinary Bureau of the Ministry of Agriculture announced on Wednesday.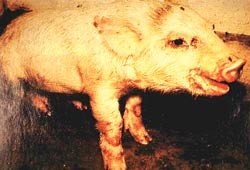 a pig infected with foot-and-mouth disease
One hundred eighteen cattle were infected. The disease has appeared in three provinces, Quang Ninh, Cao Bang and Thanh Hoa. Blue-ear disease appeared among pigs in Ha Nam province on Wednesday. Four pigs belonging to a family in Nhan Chinh Commune, Ha Nam province were infected. Ha Nam is the 14th provinces where the disease has appeared during the last 21 days. Bird flu has also appeared in the provinces of Tra Vinh, Dong Thap and Nghe An.
Many areas are passive in preventing the spread of these disease, Mr. Bui Quang Anh, the director of the Veterinary Bureau, told the newspaper The Youth. He gave an example concerning Hai Lang district. This district is next to Quang Dien district, where blue-ear disease appeared during the last few months. But the district government has done nothing to prevent its spread. As a result, on July 10, ten days after the first case of disease was found in Quang Dien district, a case was found in Hai Lang district. In many areas, breeders do not cooperate with veterinary officials because they fear unreasonably that the inoculation will harm their herd.
Mr. Anh said that in the future, the diseases may spread throughout the country. Therefore, it is crucial to hire more veterinary officials and improve their performance. In addition, breeders must be made aware of the dangers so that they cooperate with organizations trying to control the diseases.