About 30,000 labourers in Viet Nam suffer from occupational diseases, Nguyen Anh Tho, deputy director of the Department of Labour Safety has said.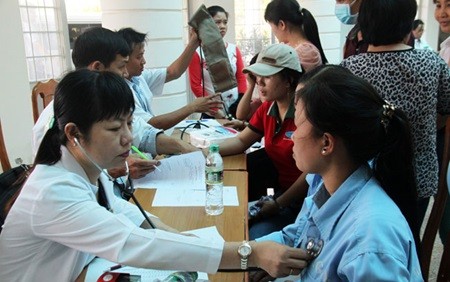 Doctors examine labourers in Hiep Hoa Industrial Zone in central Phu Yen Province. An official from the Department of Labour Safety says about 30,000 labourers suffer from occupational diseases in the country. — VNA/VNS Photo The Lap
Tho said that the figure could be much higher due to an increasing number of chemicals being used in the workplace.
According to department figures, only about 6,000 establishments survey the working environment each year. And only five per cent of employees are given medical examinations to detect work-related diseases. Most of them go to healthcare centres only if they have symptoms.
The International Labour Organisation (ILO) estimates that throughout the world, work-related diseases affect about two million people each year. Their death rates are six times higher than those of work accidents.
Statistics from the Health Environment Management Agency show that only about 15 per cent of workplaces nationwide have facilities to monitor the working environment and conduct periodic medical check-ups.
Dr Pham Hong Luu from the Occupational Health Centre in Ha Noi said acute occupational diseases could be caused by chemicals or highly poisonous substances.
A new Law on Labour Hygiene and Safety adopted by the National Assembly will take effect from July next year. It emphasises controlling harmful factors at the workplace.
The law states that every month, employers must pay a maximum of one per cent of workers' wages to insurance funds set up to help those affected by work accidents or occupational disease.
About 10 per cent of the fund will be used for medical check-ups and training.
In Viet Nam, health insurance covers 30 occupational diseases. Among those, diseases caused by workplace dust comprise 74 per cent of the total, followed by noise pollution problems with 17 per cent.
Other workplace diseases are often caused by exposure to benzene, X-rays or skin-related diseases.