Fear of contracting hand-foot-mouth disease has caused many pre-schools in Ho Chi Minh City to shut down temporarily since more and more children are reporting sick every day.
The People' s Committee of District 8 announced the closure of public pre-schools in the district two weeks earlier than scheduled as hand-foot-mouth disease is becoming more widespread among children. Private day nurseries will be allowed to operate as normal under supervision of health authorities.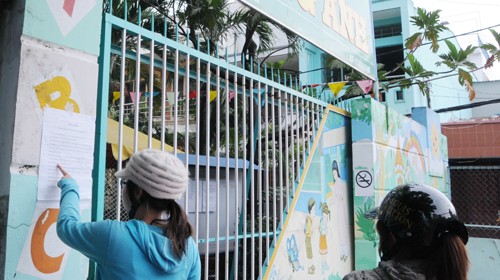 Parents look at bulletin outside Vang Anh pre-school (Photo: Tuoi Tre)
Since the beginning of this year, there have been 440 cases of hand-foot-mouth disease and three fatalities in District 8.  Apart from this, there were 12 other cases including one death in 10 schools namely Son Ca, Bong Hong, Bong Sen, Kim Dong, Tuoi Ngoc, Tho Ngoc, Tuoi Hoa, Tuoi Tho, Vang Anh and 19-5.
A bulletin board in front of Vang Anh School says "As hand-foot-mouth disease is widespread with serious complications, the school has decided to shut down. Parents please keep your children at home". The managing board of the school has strengthened propaganda about the ways of transmission of the disease to make parents more aware.
The refusal of schools to remain open during summer vacation has caused problems for busy parents; however, Trieu Tuan, head of the Department of Education and Training in district 8, said that the option of opening classes depends on teachers during vacations.
The reported cases of hand-foot-mouth disease increased in July, when the disease usually shows signs of abating. Pediatric Hospital II admits 60 cases daily compared to 35 cases per day earlier. Last week, two kids died in the hospital; one was from HCMC's district 12 and the other from another province.
Nguyen Dac Tho, deputy director of the Municipal Department of Preventive Health, said around 400 children suffering from the disease are taken to hospitals in the city each week.
The situation in the Mekong delta is much the same. Bac Lieu province reported 129 children contracted with the disease, according to Dr. Nguyen Van Minh, director of the province Preventive Health Department. Two kids in district Dong Hai and Hoa Binh died of the disease. Managing board of Hoa Mai pre-school in the province has decided to shut down because three children contracted the disease.
Can Tho City also recorded more than 2,800 cases of hand-foot-mouth disease since the beginning of the year, 109 percent higher than the same period last year.  Some affected children were from the neighboring provinces of Vinh Long, Hau Giang and Soc Trang.
Dong Thap and An Giang saw 120 children affected with the disease, an increase of 30 percent. Whist Dong Thap has seen an increase of 300 percent compared to the same period with an astonishing 1,046 reported cases.