Doctors from the Ho Chi Minh City Eye Hospital along with employees of the Ho Chi Minh City Sponsors Association for Poor Patients and the Kinh Do Bakery Company have completed a 12-day charity mission in Cambodia.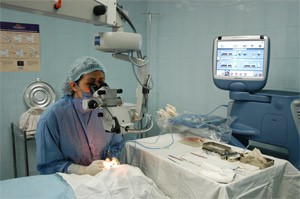 An eye operation for the poor is carried out at the Eye Hospital ( Photo:U.Phuong)
Around 2,000 eye Cambodians received free medical treatment and medicines; more than 600 in Pursat, Battambang and Kompong Chhnang provinces underwent eye surgery.
Mission chief Ms. Truong Ngoc Thuy said that most of the patients were too poor to afford hospital treatment and had thought they would be living in darkness for the rest of their lives.
The goodwill ambassadors also visited needy Vietnamese-Cambodians living around the Tonle Sap in Pursat province and handed out loads of presents.